Brilliant 3rd Party Logistics solution : 
Brilliant WMS a Complete Warehouse Management Solution developed exclusively for 3pl logistics, public warehouses, public refrigerated warehouses, and packaging fulfillment operations.
Brilliant WMS offers multi-client, client-owned inventory management which is run as a stand-alone billing and inventory system designed for 3PL warehouses that can be integrated with a full suite of financial management and accounting modules.
Brilliant WMS 3PL Challenges into Profitability
A 3pl logistics solution of BrilliantWMS that is adaptable to meet customer needs & requirements. Generate more revenue for your third-party logistics operation by capturing and billing for all the value-added services you provide. By using  BrilliantWMS  3PL management software to have greater control over your operations and give power to better decision making & satisfy customer service without adding to your workforce system.
We developed specifically to Manage multiple customers, business, Vendor with varying operational processes, Brilliant WMS, documentation and billing needs, 3pl wms software offer a full set of easy to use tools to help and make your 3pl operation more profitable, successful.  Brilliant third-party warehouse management system software removes errors by automating billing system and includes a wizard to make setting up billing fast, easy and accurate, perfect.
Brilliant 3PL WMS Benefits :
Developed for third-party logistics providers
Generate & bills for any & all value-added services
Speeds onboarding of new customers
Easy customization of billing
Facilitates faster development of customized reports
Enables you to compete & win new business
Workflow enables tailoring to customer specifications
Relies on less expensive SQL vs. Oracle database
Highly reliable software capable of handling high volume
Workflow automates operations for greater accuracy
Enables 24/7 visibility of customer data without staff
Brilliant WMS 3pl logistics requirements into the original design of the software foundation, not as an afterthought or adaptation.  This ensures that our warehouse management solutions can handle complex, high volume operations as well as multiple customers serviced by third party logistics providers. Very extremely configurable 3PL billing software on the market today.
Brilliant 3PL WMS Features :
Developed to meet changing technology needs
Segregates inventory by ownership
Supports invoice posting to a general ledger
Customers can see real-time data visibility for via web portal
Store files within the WMS
Build in tiers & blocks for quick deployment
.NET software less costly to support
User Specific Reports & Dashboard
Labor & Performance Management
Set Customer Billing frequency in days, weeks or months
Uses transnational data recorded and stored to accurately calculate charges
Billing methods fully configurable for each customer and product
Calculate charges on a fixed customer rate or quantity per item processed or both
Powerful Mobile app to capture customer requirements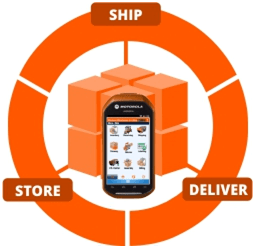 3PL Billing System Work Flow:
The most flexible 3pl logistics WMS Billing system in the industry today, Brilliant WMS 3pl warehouse includes a billing wizard to make the process fast, accurate and efficient. Only select the correct parameters and then answer to the basic questions about contract terms and related billing issues. The 3PL WMS billing wizard uses this information to create a billing schedule then automates the process to reduce the time, labor and error associated with this process.
Generate and bill for all the value-added services you provide in the database
Handles billing strategies such as:
Recurring storage
Initial split month storage
Anniversary billing
Inbound/outbound handling charges
Action wise billing captured via RF handheld device